Welcome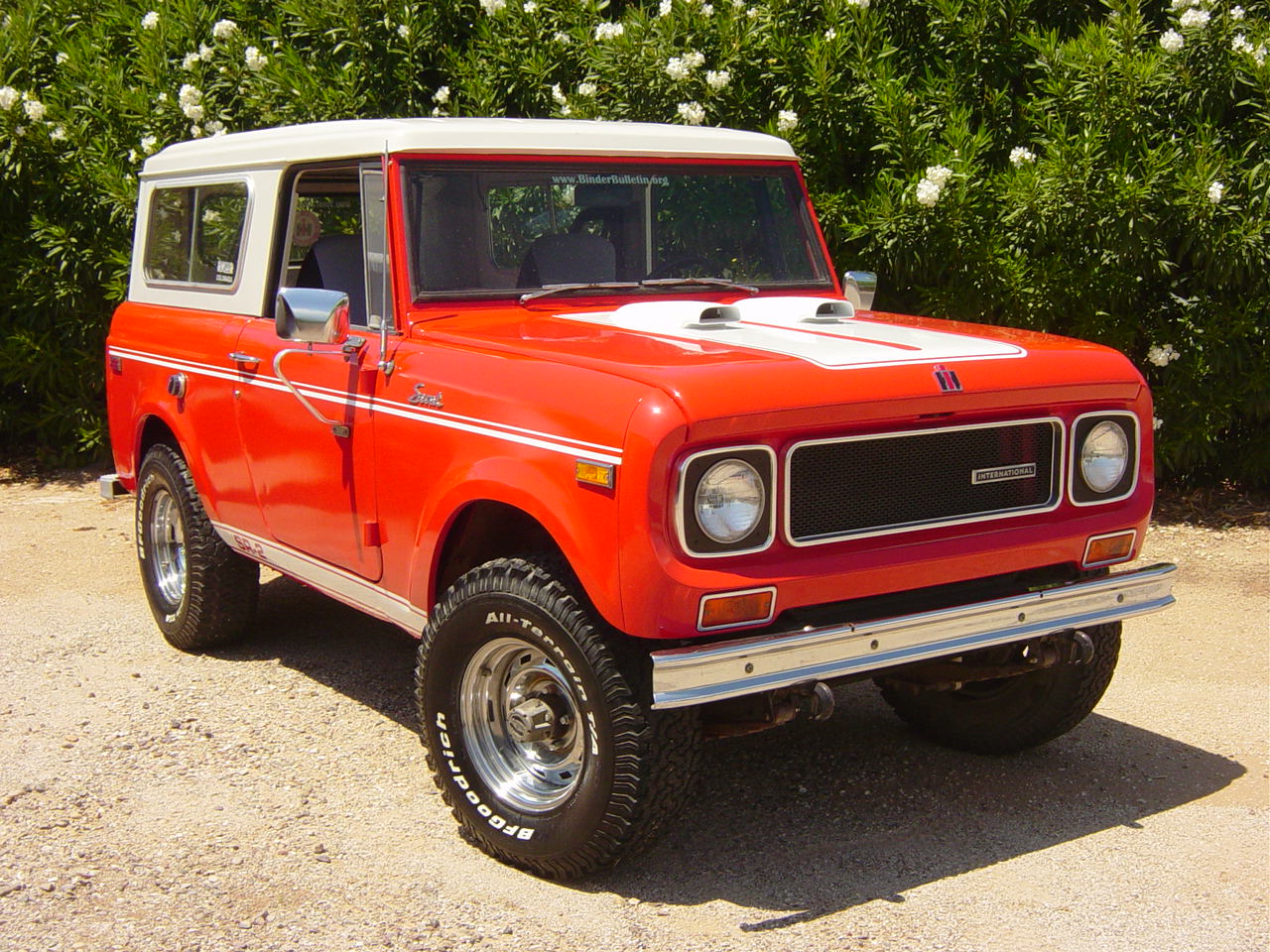 his page will be developed to document the progress of repairs and mods to my 1970 International Scout 800A SR-2, acquired on 9/9/2003.

The Scout is an original Arizona truck, purchased in 1970 from Hamilton Equipment Company in Tucson. I bought it from the third owner. It has been in southern Arizona all its life. Here is some information from the Line Setting Ticket:

| | | |
| --- | --- | --- |
| Option | IHC Code | Description |
| SCOUT800SR-2 100WB | 7828872 | SCOUT 800A SR-2 |
| V304 ENG | 01000 | V8 –304 |
| T39 TRANS | 13039 | BW 11 AUTOMATIC |
| TC145 | 13145 | DANA 20 TRANSFER CASE |
| FA11 FRT AXLE | 02011 | DANA 30 FRONT AXLE |
| RA28 R AXLE | 14028 | DANA 44 REAR AXLE W/PWRLOK 3.73 |

You can view some photos of the Scout as it appeared when I purchased it. Click here.

Initial evaluation Sept 12, 2003: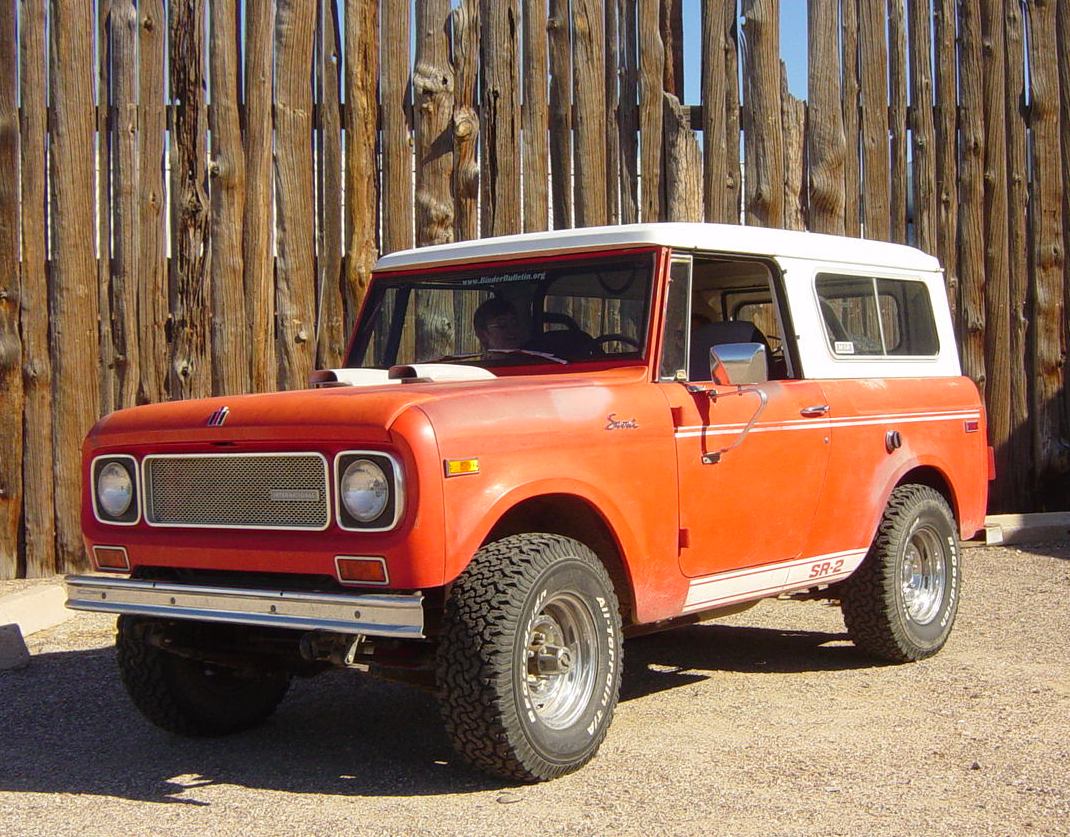 Engine: 304 V8 with Holley 2300 2bbl. Engine runs strong and quiet with no smoke.
It's covered with grease and dirt, so I'll have to clean it off and determine where the leaks are coming from.
Transmission: Borg Warner 11 (T39) 3-speed automatic. Seems to work and shift OK. The shift lever handle is broken off with only a 3-4" piece sticking up from the console. Kind of hard to change gears until you get used to it. I'll be looking for a replacement shifter or some way to fabricate a longer handle.
Transfer case: TC145 Dana 20 single stick. I haven't yet tried it to make sure everything works. PO stated it did.
Running gear: Dana 30 front axle w/3.73 gears. Steering seems fairly tight with minimal play. Might be able to get by with tie rod end replacements and tightening up the steering box. Rag joint looks pretty good too. The smaller aftermarket steering wheel makes turning the truck a little more of an effort.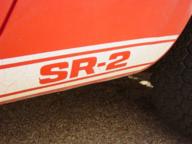 Dana 44 rear axle with the ratio tags still in place! It's really unusual to find a Scout that somebody hasn't worked on the diffs and not replaced the tags. According to the line set ticket, the rear diff is a PowerLok (IH no. 14028). I'll have to pull off the rear cover to verify this though.
Springs don't seem to be too bad for 33 years old. No sagging corners or broken leaves.
Body exterior: Very solid. No rust or major dents. All glass is good. Rubber seals are all shot except the windshield which looks as though it may have been replaced fairly recently. Has the stock chrome bumpers front and rear that have NO dents or creases from pulling or pushing! Chrome slotted ralley wheels (may be original with the SR-2?) with 31 x 10.50 BFG's. Seems to be plenty of clearance in the wheel wells with stock shackles and no lift kit. Doors have some slight sagging but hopefully can be adjusted to fit and close better.
Original SR-2 striping on the sides is still there although pretty badly weathered and cracked. It will be useful as a pattern for replacements. The hood stripes have been removed or painted over. You can still see where they were for measurement though. Two "snorkel-type" scoops were added to the hood by a PO. Only one opening was cut through the hood though. If I decide to remove them, I would have less to patch than if both had been cut through.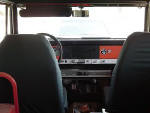 Body interior: Very solid and complete. Front seats are high back buckets. They are attached to the stock mounts so the driver's seat has the front-back adjustment and the passenger side tilts forward. Upholstery is in good shape with just one small tear on the driver's seat. The rear seat is all there but needs new wood and foam and cover.
Dash is pretty much unmolested except for a starter button which has been added to hole where the master cylinder warning indicator light should be. All gauges except the temp work. Steering wheel is aftermarket and has no operable horn button.
The under dash A/C unit needs some major refurbishing. I will remove it for now and possibly try to get it operating and put it back in next summer. If it's beyond repair or deemed too expensive, I might use the York compressor for on-board air. Condition of heater/defroster not known at this point.
Still has the stock AM radio in the dash with all the knobs! Glove box is missing.
Passenger side window crank handle missing and the regulator has been removed so the window is down inside the door. The PO did still have the regulator though.
Somewhere along the line (doesn't look to be too long ago), a 6-point roll cage was added. This definitely gives you a feeling of security while driving! Not to mention something to hang onto. The PO had to trim the edges of the Travel Top above the door windows to get it to go back on.
Things that don't work:
Wipers - fuel pump was replaced with a single action model so no vacuum source.
Temp gauge - may need a replacement or just a new sending unit. Update: wire was disconnected from sending unit. Fixed.
A/C - may overhaul or just use the compressor for on-board air.
Carburetor - choke linkage missing.
No spare tire or jack - a must for any off-road driving (or ANY driving, for that matter). Update: got a Hi-Lift 48" jack and spare chrome rally wheel to match. Mounted a used 31x10.50 All Terrain on it.
Passenger side window - regulator removed and crank handle missing. Update: regulator reinstalled but it has some missing mounting bolts and binds up when operated. A replacement is on the way.
Door locks - no keys. Update: got a set of keys made.

As the project progresses, I will create more pages to illustrate what's being done. The buttons below will take you to those pages. Stay tuned for updates!
Click here to see an album of International Scout 80/800 photos.